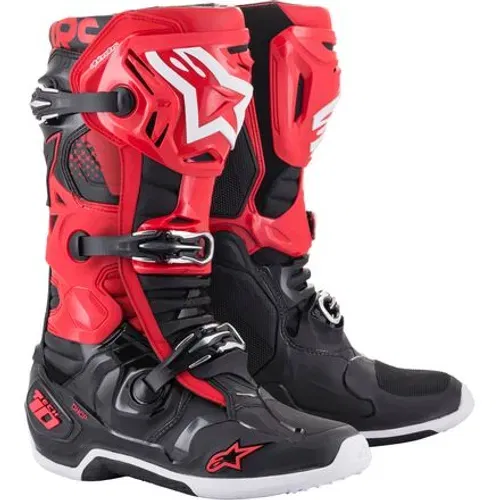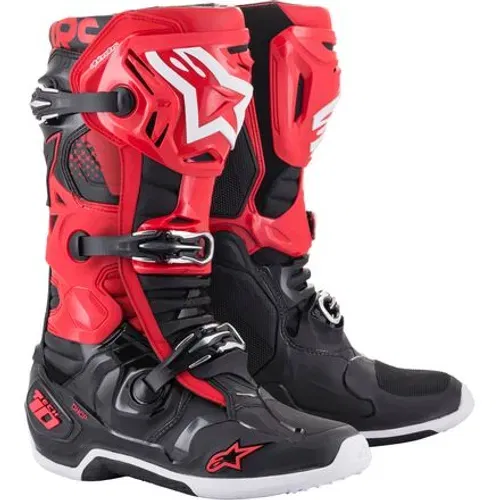 Alpinestars Tech 10 Boots Black/Red
Select Size
MX Locker Buyer Protection Guaranteed
Payment is held until the item is delivered and approved by a buyer. Receive your item as described or your money back.
Overview
Sizing
Description
The Tech 10 has set the standard for Motocross boot performance and protection for well over a decade. The completely redesigned Tech 10 boot raises the performance envelope even further. Perfection through innovation; while maintaining the iconic Tech 10 look, the new boot represents an entirely new approach – improving its ability to give a rider the ultimate in feel, comfort and safety. The Tech 10's re-design has been guided by three priorities as the Alpinestars technical footwear development team looked to improve overall functionality, performance and safety, decrease weight and reduce material volume. Maximizing these priorities is the key achievement of the new Tech 10 and the result is an all new boot with a greater range of movement and flexibility while offering better control over the flexion and torsion forces that significantly improve boot performance, giving the rider greater confidence and protection.
Report this item
Buyer Protection Guaranteed
Payment is held until the item is delivered. Recieve your item as described or your money back.
Secure Payment
MX Locker keeps your information secure. Sellers never receive your credit card information.
Save up to 70% off
Save on a huge selection of new and used items. Make an offer and save big.