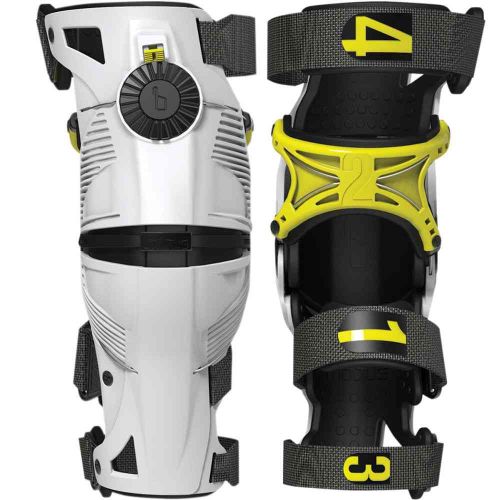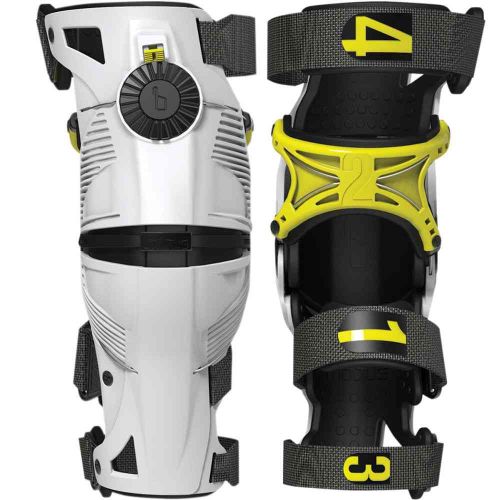 NEW PAIR Mobius X8 Knee Braces - White/Yellow (PAIR)
$649.95
Select Size
MX Locker Buyer Protection Guaranteed
Payment is held until the item is delivered and approved by a buyer. Receive your item as described or your money back.
Overview
Sizing
Description
NEW PAIR Mobius X8 Knee Braces - White/Yellow LargeUses a Continuous Cable Routing System (CCRS) that externally reinforces all crucial ligaments of the kneeCable routes around the knee joint through the tendon back plateWhen extreme force is applied to the knee joint, the cable progressively tightens to provide support and prevent excessive rotation and bendingCCRS also grips and squeezes the brace shells gripping the tibia and femur to provide additional support to prevent any additional excessive movement of the knee jointBrace outer shell is a lightweight PIM glass-filled nylon shell that conforms to the shape of the leg to provide natural freedom of movement without bindingDesign also prevents the brace from rotating or slipping out of positionCCRS system features a locking, CNC forged 6061 T-6 aluminum dial for adjusting the tension of the cablePlush molded EVA foam and impact-absorbing rubber internal linerCNC forged 6061 T-6 aluminum hinge platesOverlapping patella area with CNC forged 6061 T-6 aluminum stops leaves no gap exposed, regardless of how far the knee is bentHook-and-loop attachment straps with numbered pull tabs provide a proper custom fit and easy on/off of the braceSIZING GUIDEMeasure from the center point of the kneecap to 6 inches up the thigh. Measure the circumference of your thigh at that point. With this measurement, follow the size chart below.WARNING:• If you fall between two sizes, choose the smaller size.• If the #2 Tendon Back Plate contacts the shells and will not tighten any further, the brace is too large for you. Using an X8 that is too large for you will not function as designed and will not protect you properly. It may also cause premature wear of the device and may void the warranty.SIZINGTHIGH CIRCUMFERENCEKNEE WIDTHXS15"-17" (38-43cm)3.2"-3.8"(8.1-9.6cm)S17"-19" (43-48cm)3.4"-4.4" (8.6-11.2cm)M19"-21" (48-53cm)3.4"-4.4" (8.6-11.2cm)L21"-23" (53-58cm)3.4"-4.4" (8.6-11.2cm)XL23"-25" (58-63cm)4.2"-5.0" (10.7-12.7cm)
Report this item
Buyer Protection Guaranteed
Payment is held until the item is delivered. Recieve your item as described or your money back.
Secure Payment
MX Locker keeps your information secure. Sellers never receive your credit card information.
Save up to 70% off
Save on a huge selection of new and used items. Make an offer and save big.